Wondering what this is? Click the "About Us" link on the left!
Friday, April 30, 2004
Sorry I'm a little behind on this update, I've been out sick for a while...
Page five
is up now! Make sure you leave feedback in the forum topic
here
.
I personally have not yet had a chance to read page 5 all the way through, but so far, I'm really impressed with the amount of time everyone's investing in this project. Kudos to joebrent, Omnie, chancesend, xnbomb, vpisteve, Giskard, and (especially) yanka for making this book idea happen.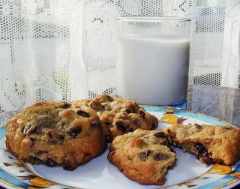 Cookies for all!
Okay, touchy-feely moment's over....
posted by Peter Magenheimer at 9:41 PM
Wednesday, April 07, 2004
Page 4 has been
posted
. Check it out and then post your feedback
here
.
Since nobody seems to have noticed the sticky in the forums, I'm posting this here, too: We need ideas for a name for the book! Go
here
to suggest a name. Thanks!
posted by Peter Magenheimer at 2:46 PM